November 20, 2012, UConn Today
By:Â Colin Poitras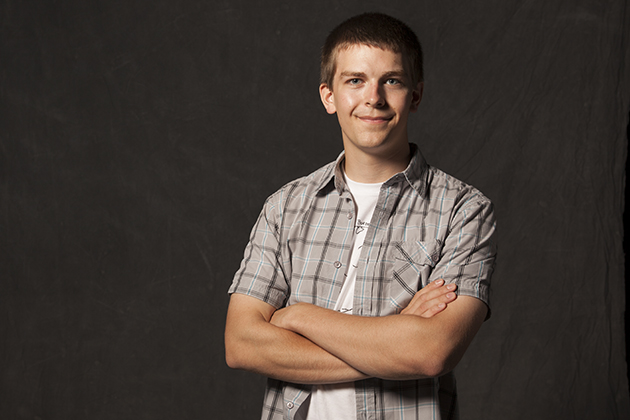 Ethan Butler '12 (ENG), 2013 Marshall Scholarship recipient. (Derek Dudek for UConn)
For the second time in four years, a University of Connecticut student has won a prestigious Marshall Scholarship.
Ethan Butler, a 2012 chemical engineering graduate and past president of the UConn chapter of Engineers Without Borders, will spend the next two years in the United Kingdom pursuing his graduate studies at one, and possibly two, of Britain's finest academic and research institutions.
A resident of Southbury, Conn. who grew up on a Christmas tree farm, Butler is one of 34 students in the United States to receive the highly-competitive scholarship this year. He is the third student in UConn's history to be a Marshall Scholar. The others were Michelle Prairie in 2009 and Virginia DeJohn Anderson in 1976.
The Marshall Scholarship is Britain's flagship government-funded program for American students who represent some of the finest and brightest college graduates in the United States. It is named after former Secretary of State George C. Marshall, and was established as a gesture of gratitude to the people of the United States for the assistance the U.S. provided after WWII under the Marshall Plan.
While in the U.K., Butler hopes to study advanced chemical engineering and innovation, entrepreneurship, and management at Imperial College London, one of the world's top engineering and scientific universities known for the discovery of penicillin, the development of holography, and the foundation of fiber optics. His second choice is the University of Manchester, where physicist Ernest Rutherford ushered in the nuclear age and Professors Freddie Williams and Tom Kilburn developed the first programmable computer. He will find out his destination in the spring.
Butler's long-term goal is to develop sustainable, community-based water and energy technologies in order to supply clean water and renewable energies to people in developing countries while simultaneously creating job opportunities for those in critical need.
" UConn is a place where you have a lot of opportunities. If you shoot for the stars, you get the support of this massive university behind you."
"It's all kind of surreal," says Butler, who was notified of the honor a few days ago. "If you were to ask me four years ago if I'd get something like this, I would have said it was completely outside the realm of possibility … I'm just thrilled. The unimaginable has already happened. I'm just hoping to continue that upward trajectory."
Butler maintained outstanding academic scholarship during his four years at UConn. A member of the Honors Program, he was named a University Scholar – UConn's highest academic honor – in 2012, and was inducted into the University's most prestigious leadership program, the Legacy Leadership Experience, the same year. In 2011, Butler received UConn's Global Citizenship Award along with a Udall Scholarship, National Collegiate Honors Council Portz Fellowship, and Newman Civic Fellows award. He was a member of EcoHuskies, UConn's Environmental Policy Advisory Committee, and Tau Beta Pi, the engineering honors society.
But it was Butler's involvement in the UConn Chapter of Engineers Without Borders that will always stand out as a large part of his UConn legacy. When Butler arrived in Storrs as a freshman in 2008, the chapter had little support and only a handful of members. Butler quickly got to work restructuring the group, organizing events, filing paperwork, and raising funds. As chapter president, Butler helped develop field projects in Nicaragua and Ethiopia, succeeded in raising more than $70,000, expanded the group's membership to more than 40, and established a strong international support network of more than 50 non-profits, NGO's, and government, academic, and business professionals.
"Building Engineers Without Borders, USA-UConn was a personally transformative experience for me," Butler said in his scholarship application. "Not only did it call me to leadership, but also it exposed me to extreme poverty for the first time when I visited our partner-community in Nicaragua: La Prusia."
During his first trip to Nicaragua, Butler said he went door-to-door speaking with residents living in the extremely difficult conditions. He saw how the community's access to markets, jobs, schools, and other services was severely restricted due to the heavy flooding and erosion of a local road to nearby Granada. UConn's chapter of Engineers Without Borders is currently working on rebuilding the mile-long road, a project that Butler hopes will be completed within the next two years.
In order to repair the road, Butler and his engineering team developed a novel soil stabilization technique and used a low-impact design to create an economical solution for La Prusia. During his work with Engineers Without Borders, Butler also founded the Humanitarian Water Purification Lab Group, which is dedicated to advancing sustainable water purification technologies for developing countries and emergency relief. Water purification technology is an area in which Butler has some experience. For his senior engineering capstone project, Butler designed and evaluated a water purification system for Bangladeshi waters contaminated with arsenic.
"Ethan made an indelible mark here as an innovator, researcher, and advocate for sustainable engineering solutions to some of the world's most pressing environmental problems," UConn President Susan Herbst wrote in a letter of endorsement submitted with Butler's scholarship application. "Not only did he demonstrate the intellect and drive to master the scientific and technical knowledge he needed, but also he proved a remarkable leader, bringing together faculty, entrepreneurs, students, and community stakeholders to launch several international projects still ongoing today … He is fiercely smart, thoughtful, and pragmatic – a combination designed to make a tangible difference."
Butler says he is grateful for the enormous support he received from the University throughout his four years in Storrs. Nowhere was that more evident than in the final days of the Marshall Scholarship process, when Butler had to fight through an early season winter snowstorm to attend his practice interview. Stuck in Storrs after the storm, Butler stayed at the home of Vice Provost for Academic Affairs Sally Reis overnight to be sure he made it to Massachusetts the next day. Other individuals who braved foul weather or opened up their homes to help Butler through the application process include former Associate Vice Provost and Honors Program Director Lynne Goodstein, history professor Christopher Clark (chair of the scholarship nominating committee), Ecology and Evolutionary Biology Associate Professor Elizabeth Jockusch, and Chemical, Materials, and Biomolecular Engineering professor C. Barry Carter. Jeffrey McCutcheon, Northeast Utilities Assistant Professor of Environmental Engineering, served as Butler's academic mentor.
"I am deeply grateful for all the support I received from the University," says Butler, whose mother is a UConn alum. "UConn is a place where you have a lot of opportunities. If you shoot for the stars, you get the support of this massive university behind you. I was able to do things I never imagined I would do."
Jill Deans, director of UConn's Office of National Scholarships, says Butler exemplifies the best UConn has to offer and does so with humility and grace.
"UConn students have both the drive and the intellect to be national leaders in their fields," Deans says. "Many, like Ethan, are also deeply humble. I am delighted that these qualities are being recognized in premier competitions like the Marshall. I'm excited to see what the future holds for Ethan. His aspirations are indistinguishable from the common good, and his talents are vast. This award will indeed help him maximize his potential to solve some of the most pressing social and environmental issues of our age."
Butler expects to begin his graduation experience overseas in fall 2013.
Watch a video of Butler.